Portable Fever Alert
Model Number HSI1500S
Screen for possible fever with the NEW! Wahl HSI1500S Portable Fever Alert

An early warning system to screen people in "real time", the Wahl Portable Fever Alert Imager uses the latest advances in hand held imaging technology to quickly and accurately detect elevated body temperatures for possible fever. In less than a second it gives off both AUDIBLE and a VISUAL ALARMS when the pre-defined threshold is exceeded. The Portable Fever Alert takes both thermal and digital pictures of the subject, and can utilize digital/thermal/ mixed image fusion (100% -75% -50% -25% -0%) to allow for quick identification and evaluation.

Low cost and ease of use make the Portable Fever Alert the best choice to use to minimize the spread of influenza in public venue's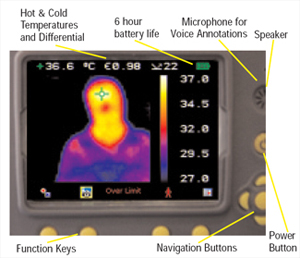 Product Specifications

HSI1500S Features

LED Illuminator for Dark Conditions
Less than a second to take a temperature reading, with no delay processing people past the system.
Non-threatening to people in several ways: Measures the amount of energy radiating from a surface.
No lasers are used.
No storage of "sensitive personal information", thus no violation of civil liberties.