HSI2500S
Fever Alert System!
An early warning system to screen people in "real time", the Wahl HSI2500S High Resolution Fever Alert infrared camera offers unmatched image sensitivity and clarity in a 320 x 240 radiometric imager.

In less than a second it quickly and easily detects elevated body temperatures and gives off both an AUDIBLE and VISUAL ALARM when a pre defined threshold is exceeded, indicating possible fever in humans. A Blackbody reference is also used to regularly verify the accuracy of the imager.

This screening system can be used as part of a plan to minimize the spread of flu, and potentially limit the infectious transmission of disease during an outbreak, in both the workplace and public facilities..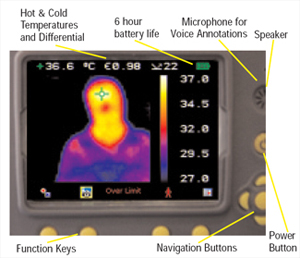 Product Specifications

HSI2500S Features

Less than a second to take a temperature reading, thus no delay processing people past the system.
Optimal response when screening is narrow focused and at a short distance.
Non-threatening - non-contact:
Measures the temperature coming off a surface - no contact with subject
No lasers are used
Blackbody verifies the accuracy of the imager.